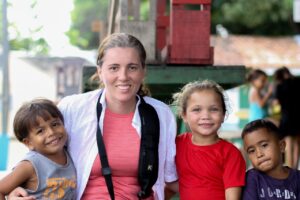 "I learned here that, we human beings need to give and don't need to have much to do so. I always thought I didn't have much to give, but I realized I didn't understand much about it. Here I discovered the true meaning of everything", said Mayra Mendes, a volunteer photographer in Roraima.
Life has never been very monotonous for Mayra Mendes. From Belo Horizonte, Minas Gerais, she is 37 years old and carries with her two great passions that appeared in different moments. When she left school, Mayra took the Ecology course and fell in love with animal life and nature. From this life of observer, at the end of college, while working in a zoo in the capital of Minas Gerais, she started not only to observe, but also eternalize moments, to photograph the animals.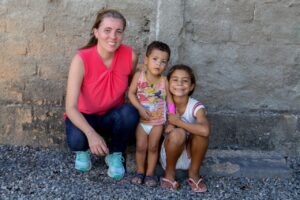 Mayra then left her job as an ecologist aside and for almost 10 years has dedicated herself to photography, covering weddings, birthdays, and doing rehearsals. In her spare time, as a hobby, she likes to take pictures of the everyday life, of the animals, and of her husband, who is a musician, bachelor in transverse flute, and always plays in the nights of Minas Gerais. Talking about Mayra's husband, he gave her the kick-start so that she could live something she had wanted for a long time. Remember that in the beginning we talked about no monotony? Well, well! Mayra's husband, Frederico Campos, is a third sergeant in the Brazilian Army and, like all military family members, she has always had her bags packed. Even more so for a humanitarian experience.
"I came here to Boa Vista to accompany my husband who is in the army, he is a musician in the army band, and came to work in Operation Welcome, and I proposed to come stay for about two months with him and build something here," the photographer began. And so she did. First she managed to work as a freelance photographer at some events. But she went further. She researched the organizations that worked with Venezuelan refugees and migrants and came to us. Mayra gave a few hours of her passionate and professional eye to the Reception Centers of the Project Brazil, a heart that welcomes, of the humanitarian and non-governmental organization Fraternidade sem Fronteiras, in Roraima, especially São Vicente 2.
She spent mornings and afternoons recording the daily life, the teams working, the physical spaces, and the community, especially the children. Mayra was also in the border of Brazil with Venezuela, in the city of Pacaraima, where the migratory crisis is even more visible and tragic, with hundreds of people living on the streets. She got to know the work done at the Center for Training and Reference, the CCR. Even though she was emotional, almost fainting, she photographed every moment.
It is interesting to look at the final product of this experience, the photos, and see the love of those who took them and the gratitude of those who were being captured by the professional lens.  "The key word is love. That word I use to describe what I experienced. I arrived here, on the first day, without knowing anyone. Then a child came, hugged my leg and smiled.
I came to give, to welcome, but in a few minutes I was welcomed. It is a relationship of mutual welcome that happens here, and this touched me a lot," she continued.
Perhaps this is a desire of yours. In fact, volunteering is a desire of many. Leaving everything behind to give yourself to a humanitarian life is difficult. Even if for a short period. But it is an exchange that stays.
"The photos I made here, I reviewed to edit and deliver to the community and the contributors. But I don't need to look to remember. The face, the smile, and the look on each child's face are eternalized in my memory. And they always will be. It is indescribable, I have no words. Letting go is very difficult. I recommend this experience to everyone. You learn so much more from each other. I am sure that I am coming back home a much better person," Mayra concluded about the experience.
Before returning to Belo Horizonte, our volunteer revealed a good part of the photos and distributed them to the beneficiaries who were the main characters in them. Gratitude for all the affection, for all the love and dedication to Projeto Brasil, a heart that welcomes.
How about living this volunteer experience? Here is the invitation for you!